Aicok Mini Travel Garment Steamer
I have owned a couple of different steamers over the years and I always have the same problem with them, they drip.    I use a fabric streamer for a couple of different reasons.   I am a little different than most people as I use a fabric steamer for more than what it is designed to do  I also do custom cakes, and when I decorate a cake, I often will want the fondant to be shiny looking.  In order to achieve that look, I use a fabric steamer.    The key to using one is that it can not leak in any way, or it will ruin the fondant and all that hard work I just did on a custom cake is useless!!
One of the first things I noticed about this fabric steamer by Aicok  is that it fits really nicely in my hand. If you are going to be steaming something, you want it to be comfortable to hold.   I have had other models that had a tank attached to it and it was just a pain in the rear end to use.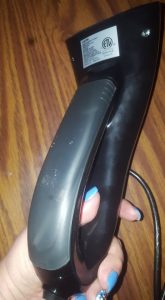 I was always worried about tipping it over.    I don't have that worry with this model, as it is extremely easy to use.   You simply fill up the handle with water from your tap, to the line that says it is full. The one downfall about this model is that it doesn't hold a lot of water, which means you will be refilling it often if you have to do a large piece of material.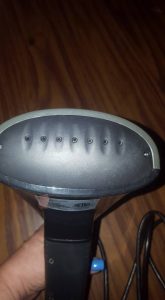 I absolutely hate ironing , and would much rather pull out a fabric steamer and use it to get the wrinkles out of my clothes.   I have to be honest, I am the world's worst about pulling clothes out of the dryer when they are done.  I usually tend to forget they are in there and then by the time I pull them out, I have clothes that are wrinkled.  UGH   So the best solution for me is to have a nice little fabric steamer like this on hand!!   I can pull it out, fill it up, plug it in and be using this all in less than 10 minutes!!   That is the one thing that I really liked about this one.   I have used it recently to steam my son's dress shirts and a couple of shirts that I own.  The material that I used it on so far has mainly been cotton and polyester blends.    I was able to get the wrinkles out of them in about 15 minutes or so.   
You will find that this set comes with a brush. a bag to store it in and  a glove to wear to protect your hand from the heat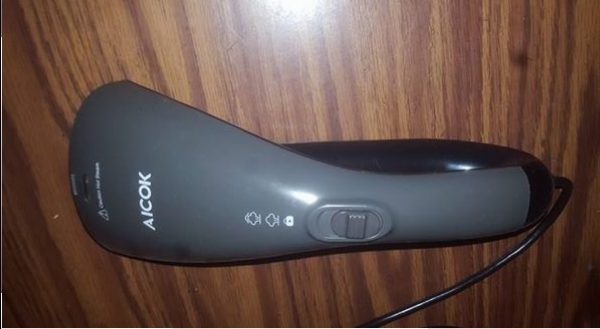 I can easily store this back in the box it comes in or in the convenient little storage bag.   I personally have thrown the box away and just put it in the little storage bag and tuck it under my bathroom sink.    I don't do a lot of traveling, but the other great thing about this steamer is I could easily pack it away in my suitcase when I do travel and take it with me.  It would be perfect for somebody who does a lot of traveling and has to worry about how to keep their clothes wrinkle free.  
You can click here and purchase one for yourself!!   Or maybe you know somebody who travels a lot and need to get them the perfect gift!    The price that is set on this right now, is very reasonable!  
FROG Reviews and Ramblings receives products in order to conduct reviews. No monetary compensation was provided unless noted otherwise. All opinions are 100% my own. I only recommend products or services I personally use. I am disclosing this in accordance with the Federal Trade Commission's 16 CFR, Part 225: "Guides Concerning the Use of Endorsements and Testimonials in Advertising"
---