Beach Homes
We recently went on a family vacation to Ocean Isle Beach, NC and I fell in love with this little beach community.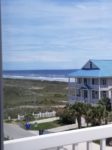 We stayed in a stunning 4 bedroom condo, that was absolutely perfect for our family!  Each bedroom has it's own bathroom. It was set up so that it basically had 2 master bedrooms, and then the  other 2 rooms had 2 full size beds in it. The furniture and the finishes on the condo were beautiful, making our stay there awesome!!   We were 4 stories up, so our view from our deck was amazing. The deck was huge, large enough for my whole family to gather around and hang out.  The inside had large windows all the way across the living room and dining area. There was 2 entrances out on to the deck, which just made everything flow easily.  In addition, we really appreciated the fact that they had an elevator , so we weren't exhausted by the time we got into the condo. We rented from Cottage Vacations, and the owner Cliff Huck  is great to work with. From the very first time I contacted him , right up to getting our deposit back was a great experience. I highly recommend using him if you are looking for a beach vacation spot.  I have looked through his site extensively and he has a ton of properties to choose from.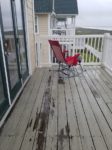 My husband and I are at an age, where we are thinking about a possible vacation home and this vacation really has us thinking about what we want specifically..  We want a place where we can get away for a week or two at a time and just relax. I want to wake up listening to the ocean waves crashing, smell the ocean air, watch the birds diving in the ocean for their food.   It would be wonderful to have a place that the whole family can gather together and spend time, making memories.
I have found as I get older, that time is a precious item in life.  All my children are grown, and we have grandchildren now that are growing up quickly.   We are very blessed that most of our kids live nearby and we are able to see the grandbabies on a daily basis.  Yet during vacation, I was able to spend time with them that I don't normally do at home. I was able to wake up in the same house as the babies, make them breakfast / lunch and hang out with them.   I want a place I can do that with them on a regular basis.
My dream is to buy a place on the ocean,and rent it during the times we aren't there.   I have been slightly obsessed with looking into real estate over there, and have found that with the right planning and God's blessings, it could happen.   I know at this point it is still a dream, but hey , what is life without dreams?
My dream is to have a place that is ocean front or at the bare minimum, has an ocean view.  We would need it to be at least 3 to 4 bedrooms. I would need it to have good parking, for renters that have multiple cars and for our family to be able to park all vehicles.    From what I have seen at this point, the type of location we are looking at is about $400,000. The great part about a place like this is that in the peak of the season, if it is ocean front, we can get about $2500 to $3000 a week in rent.  I figure that will help in paying mortgage on the beach vacation home. The plan is to be able to do this once our own home here in Tennessee is paid off, which is another 5 years. Not too much to ask right?  While I have been on this search, I found a great place to start Charlotte Homes for sale .  Maybe you are ready to start looking for something now, if so check them out today! 
I am curious, how many of my followers have a vacation home?   Or maybe you are like me, and have a dream of a vacation home?  Please tell me in comments below where you are at, and what your dream is!!  I love to hear from my followers…..need to know I am not the only one with a crazy dream!!
---