Cents of Style Skirt Sale!!
I have an amazing skirt to show off this week!! I got this beautiful skirt from Cents of Style this past week and I can't wait to tell y'all about it!!
**This post contains affiliate links and I will be compensated if you make a purchase after clicking on my links. I was compensated for this post.***
Here is the best part about this skirt, I have a special code for you to use that takes the price of it down to $19.95, plus shipping!! Use this code when you checkout to get the special discounted price: FLORALSTORY.

They have styles ready for all body types and you will find sizes ranging from small to 3x.  I chose the skirt that is a longer style this time, but I have to admit I am loving the look of the other short styles they have.  You will find by clicking here, they have  Pencil Style skirts, and shorter flowy skirts as well!!    My daughter and I are both considered plus size women and the skirt that I got was a size 2x and fits amazingly well.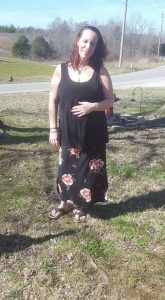 I have a confession , I am not a small girl and neither is my daughter.   Fortunately , we can both wear the same size…I am not sure if that is a good thing or a bad thing most days.  It is good because I can raid her closet and bad obviously because she can raid mine.  When I got this skirt from Cents of Style, I chose the Ayden style, which as you can see in my picture is more of a flowy style skirt.   I LOVE it!!   It is one of the comfiest skirts I have in my closet!  The great part about this particular style of skirt is that it flatters our plus size bodies.   No worries of ordering something and getting it and it not fitting well or fitting my body type.   As a plus sized woman , there is nothing more frustrating!    Cents of Style has done a fabulous job of being really true to normal sizing.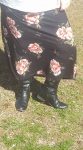 The skirt is a nice weight, it isn't one of those super thin materials.  No worries of it being see through, so no need to wear something underneath.   It is the perfect material as we head into Spring and Summer months! I can not explain to you how soft and comfortable the material is on this skirt.   It is truly the type of outfit that when you put it on in the morning, you will be comfortable in it all day.
This is the kind of skirt you can slip on in the morning to run simple errands around town, grocery store, dropping kids off at school, paying bills, shopping etc. Just throw on your favorite tank or tee shirt to go with it and slip into your favorite sandals and you are ready to go.
I promise you , I will also go to grab this skirt on that rare night my husband and I actually get to go on a "date night".   You can easily dress it up by adding a pair of heels or more than likely in my case, it will be my favorite pair of boots.  Then all I will need to do is grab a cute top , maybe add a cardigan to match, my favorite jewelry and I will be all set to go.   Now I just need to convince my husband we need a date night!!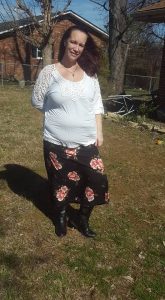 I do want to mention my personal favorite feature of this skirt is the waist band.  As a plus sized woman , waist bands on skirts like this are almost always a problem.  The tend to roll down , which makes any top you wear with it look odd.   I have not had that problem at all with the Ayden style skirt , it is wide enough that it stays in place , even when you are sitting down.  I have no doubts that I am not the only woman that has ever experienced this when wearing a slip on skirt like this, so I wanted to be sure to mention my personal experience with it.
Don't miss out on the great pricing on these skirts!!
Stop by today and check them out for yourself!! Just click on the picture below, to see what they have in stock for you!
---