Guitar Center , Great deals!
I have found an amazing site , that I thought would be wonderful to share with those of my followers who are into any type of Music.    Guitar Center offers a huge range of equipment , and is backed by over 281 stores across the country.    I can not even begin to list here the services and equipment that they offer you, it would take you forever to read through it, so I am going to try and give you a small glimpse of what they offer.    Please make sure you click here, at Guitar Center to see for yourself all you can find on this incredible site..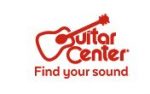 Here is a small list just to give you a small idea of what you will find on this site:
Drum Sets (Acoustic, Electronic, Snare, Cymbals, , etc)

Guitars (Acoustic, Electric, Platinum,Vintage, Left Handed, etc)

Bass (Electric, Acoustic, Double Basses, etc)

Keyboards & MIDI (MIDI Controllers, Synthesizers, Organs, etc)

Microphones (Wireless, Tube, USB, Drum, etc)

Lighting ( Color changing, Lasers & Strobes, Fog & Bubble Machines etc)

Band & Orchestra (Brass instruments, Woodwind, Marching, etc)
I could literally go on and on .   You are going to find all of the accessories needed for the equipment listed above in addition to basically anything you are looking for if you are a musician, a musician in training, or just wanting to learn more about the world of musicians.   They even offer lessons in some of their locations!!  
 My granddaughter is wanting to learn guitar, so this is a site that I personally will probably be using myself fairly soon. I am seriously considering home schooling her and her sister next year, and this site even offers some equipment for Classroom and kids.   If I choose to Home school I will be absolutely be using this site to assist them with that part of their learning/teaching experiences. I could get her a basic starter Acoustic Guitar for less than $60 right now!!   I live in a small town, yet there is still a store in our nearby big city, Nashville if I don't choose to have them ship to me directly.   
The pricing they offer you is about as good as you are going to get anywhere.   You will find all major brand names in their locations and on the website.  They are offering 20% off on various brands in EVERY department right now, so go check it out soon!!!
Here is a link to their store, to make it easy for y'al to go see all I have told you about and more!      http://www.guitarcenter.com/
#ad, * I was compensated for this post.**
Please comment below and let me know if this has helped you out in any way!  I would love to hear if you have used Guitar Center before and what your experience has been!!
---