LED Solar Garden Pathway Lights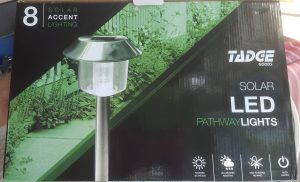 I have recently had a chance to try out these LED Solar Garden Pathway Lights, by Tadge.    As soon as I pulled them out of the box, I knew instantly that they were going to be a set that I was happy with.  I have tried several different styles of Pathway Lights, and let's just say I haven't been impressed with any others as much as I am with this set by TADGE.
This set has a large solar panel on top, large enough that even though where I placed them they are only getting approximately 4-5 hours of direct sunlight, they stay lit up all night, once the sun goes down.   They light up just enough of my garden area, that it gives off plenty of light to be able to see my garden.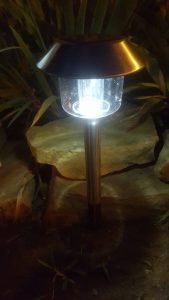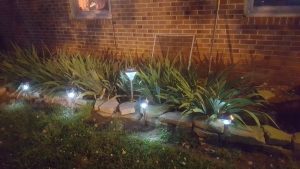 I can also choose to run them down a walkway, and feel confident that they will put off enough light so you won't have to worry about stumbling in the dark to get to your doorway.  I have an apartment at the back of our property, and we will be using some of this set there.   The apartment I am referring to is located in a very dark location, so these lights are not only a wonderful addition to our landscaping in the front yard with my garden, but would also be perfect for the walkway for our apartment.
The box comes with a set of 8 lights.   I am going to split this set up, and put 2 of them in my front yard, to light up my garden.  My garden area is not very large, so it will be plenty of light for that area.   I am going to take the other 6 and put them along the walkway at the apartment.
They have a plastic section that is the stake that goes in the ground, yet it is a hard sturdy plastic, that I have no doubt should hold up for many seasons to come.  I have not had any snow yet, but I can tell you that we have had some fairly severe Thunderstorms, and they have not moved an inch from when when we placed them in the ground.
They do have an off/on switch underneath the plastic cover, so you want to be sure you pay attention to that detail when setting them up.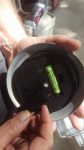 I have shown you where there is a battery on the underside, that the solar panels charge.
I would absolutely purchase this set again!!   If you are looking for some easy to put up, nice bright lighting for your garden or walkway, I would encourage you to purchase this set!!
You can purchase a set here:   LED Solar Garden Pathway Lights
Disclaimer:   I purchased these as complimentary for my personal use and enjoyment and I only recommend products that will benefit the readers and followers of  FROG Reviews and Ramblings.  I was not compensated in any way for this post. 
---