Pasta Salad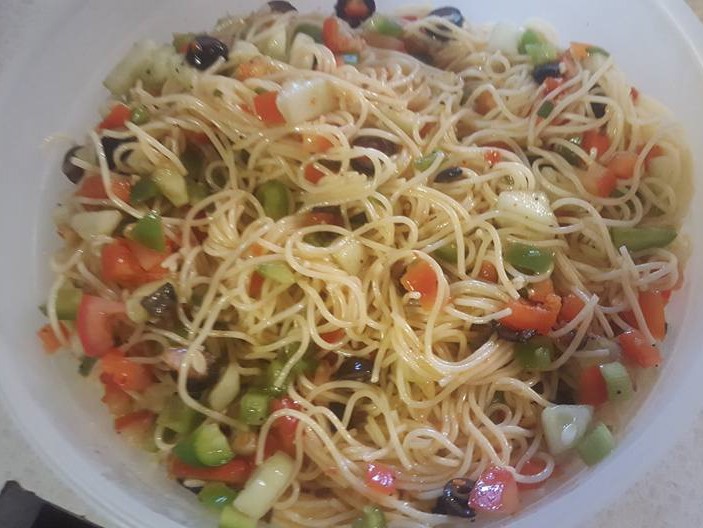 My husband and kids beg me to make this particular Pasta Dish, and it doesn't matter what time of year it is.    I do make it more in the Summer time than any other season, simply because I can make this and fry up a hamburger on the grill, and ta-da, dinner is served.   Or we will just eat this for supper , if it is just my hubby and myself.     I admit, that doesn't happen often, as we almost always have one or two of the kids/grandkids home at dinnertime.
At any rate, this has been a family favorite in our household for years, so I thought I would share it with y'all!!    Give it a try tonight, it is light and delicious and best part……..Mom doesn't really have to cook!!
1 pkg Angel Hair Spaghetti
1 bottle Italian Dressing (your favorite brand)
Can of sliced olives, drained
2 or 3 Cucumbers, peeled and diced
3 Green Onions , sliced and diced
1 Bell Pepper, sliced and diced
1 Bottle Salad Supreme (found in spice isle at grocery store)
(Any other veggies that you may like to add is great in this)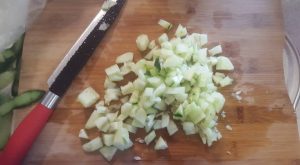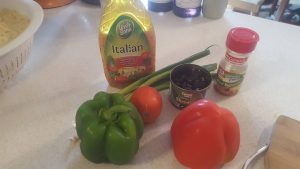 Cook your spaghetti, like you normally would, drain and set aside in a large bowl. Add your chopped up veggies and olives. Pour the whole bottle of Italian Dressing over the mixture in bowl. (yes , I do mean the whole bottle!!)  Pour about half the bottle of Salad Supreme, and mix all together. Cover and refrigerate for several hours until the Pasta Salad is chilled. Serve and eat!!
---