Win $10 PayPal Cash OR Amazon Gift Card, Pugs and Kisses Blog Hop!


Valentine's Day is right around the corner
 I have decided to team up with Savings in Seconds….. To bring you this great Giveaway PLUS a Blog Hop!!
Don't miss out, Giveaways run from Jan. 22nd to Feb. 5th!
Are you wanting to treat your sweetheart to some of their favorite candy , or flowers? Here is your chance to help pay for it!!
Maybe you are single this Valentine's Day. That is ok also, use the PayPal to spend it on yourself!!
Enter below to win $10 in PayPal Cash OR $10 Amazon Gift Card, your choice!!
Winners will be notified via email and you will have 24 hours to respond and claim your winnings.  You must have a PayPal email for me to send your winnings.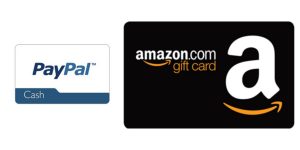 $10 PayPal OR Amazon Gift Card

Now are you ready to go Blog Hopping?
Here is your chance to win some more Giveaways!
Ready, Set, Hop!!
---