BLACK FRIDAY SHOPPING….Not Thanksgiving Day/ Thursday shopping!!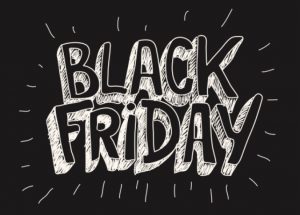 So as October starts to wind down, I am getting excited about one of my favorite days of the  year…..  Black Friday!!!
Yes I am one of those crazy people that go out every year and see how many great deals I can find on that fateful day.    I do want to mention that the last couple of years, when department stores decided it was more profitable to move the Black Friday date to Thanksgiving day, kind of killed it for me.   I mean it is called " Black Friday"  NOT "Black Thanksgiving day/night!!"   It really bothers me that now there are employees of those stores that don't get to spend time with their families because the sales start on Thanksgiving day, instead of early the next morning.    I am happy to state that I have read a report recently that has a list of stores that WILL NOT be opening on Thanksgiving Day, and I have included that information below.
Every year for about the last 6- 8 years , my husband and I have had a tradition on Thanksgiving morning.   I get up, put the turkey in the oven, and while the kids are still sound asleep, I sneak out of the house at some awful time of the morning, generally around 5 am. and head to our local K-Mart.  That is the only store I have ever shopped on Thanksgiving Day, until this new craze hit the department stores a couple years ago.   I always looked at the Thanksgiving morning sale as a "jump start" to my marathon shopping that I would go do the following morning, on Black Friday.  I was recently in our local K-Mart and I was told by one of the employees  that K-Mart hasn't decided whether or not they will be open on Thanksgiving Day yet or not.   So it will be interesting to find out whether they will stay with that tradition or not.
In the meantime, I am waiting not-so-patiently for the Black Friday ads to come out.  I will spend hours, looking through the ads, and planning my "attack" for my marathon shopping trip!  Due to my disability and my inability to do a ton of shopping at once, I have a feeling that some of my shopping this year may have to be online.   Now that isn't to say that I won't still go out and find some deals in my regular stores that I go to every year, as I promise you , I just can't help myself!!   However, this year , my daughters have promised to go with me and help me as needed.   To me , it just isn't the same to sit at my laptop and find the "great deals".   I want the thrill of the shopping trip!
Feel free to comment below and let me know if you are a fellow Black Friday junkie or if you steer clear of the stores that weekend.   Please share this post to your Facebook , Twitter, etc, so that others may know the stores that won't be open.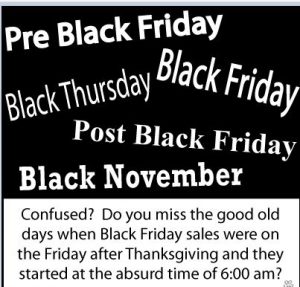 Here is the list that I found according to BestBlackFriday.com of stores that will be closed on Thanksgiving Day. 
A.C. Moore (Allow employees to spend time with family)
AAFES
Academy Sports + Outdoors
American Girl
AT&T (Customer Service Closed; Select Retail Locations Closed)
Barnes & Noble (Allow booksellers to spend time with family)
Bed Bath & Beyond (Select Locations)
BJ's Wholesale Club
Blain's Farm & Fleet (Allow employees to enjoy the holiday with their families)
Burlington (Allow employees to spend time with family)
Cabela's (Retail closed; Call Centers Open)
Chico's – All frontline boutiques
Christmas Tree Shops (Select Locations)
Costco
Crate and Barrel
Dillard's (Allow employees to spend time with family)
DSW
GameStop (5 a.m. Black Friday opening)
Gardner-White Furniture (8 a.m. Black Friday opening)
Guitar Center
Half Price Books
hhgregg
Hobby Lobby
Home Depot
HomeGoods (Allow employees to spend time with family)
IKEA
Jo-Ann Fabric & Craft Stores
Jos. A. Bank
Lowe's
Mall of America
Marshalls (Allow employees to spend time with family)
Mattress Firm
Menards
Mills Fleet Farm (Allow employees to spend the holiday with family and friends)
Navy Exchange
Neiman Marcus
Nordstrom (non-store employees working )
Nordstrom Rack
Office Depot and OfficeMax
The Original Mattress Factory
Outdoor Research
P.C. Richard & Son
Patagonia
Petco
PetSmart
Pier 1 Imports (Allow employees to spend time with family)
Publix
Raymour and Flanigan Furniture (8 a.m. Black Friday opening)
Sam's Club
Staples
The Container Store
T.J. Maxx (Allow employees to spend time with family)
Tractor Supply
Von Maur (9 a.m. Black Friday opening)
---