Chicken Enchiladas
Chicken Enchiladas
This is a favorite in my household.   I have basically made this recipe up myself, based on what my family likes.   I originally came up with the recipe, when I didn't have much in the house and had some chicken breasts to make dinner for a family of 5.  I had to have 3 chicken breasts stretch to feed the whole family that night, and the ingredients that are in it , are what I had in the cupboard that day.
2-3 Chicken Breasts
1 Large can of Red Enchilada Sauce (any brand)
1 can of diced Green Chiles
1 can of diced Olives ( or a regular size can of whole olives, that you cut up.    If you do this, only use half the can)
Several cups Shredded Mild Cheddar Cheese
1/2 Large Onion, diced finely
8-10 Flour Tortillas
Salt and Pepper to taste
Start with the chicken breasts and boil them until they are cooked through.  The nice part about this is they don't have to be defrosted. ( I always forget to take something out of the freezer for dinner)  You can use the Sous Vide method of cooking your chicken.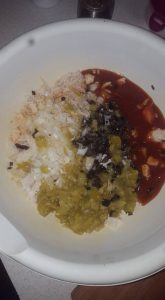 Once they are cooked , let them cool and dice into bite size pieces.  Put into a large mixing bowl.    Add diced onion and diced olives.    Here is where I don't really measure, mainly because I LOVE cheese!   I take 2-3 handfuls of shredded cheese and add to the mixture.    Pour about 1/3 to 1/2 the can of Enchilada Sauce over the chicken mixture and mix well.   You don't want it runny, you are adding just enough to get a coating of the sauce on all the ingredients.   Add salt and pepper to taste.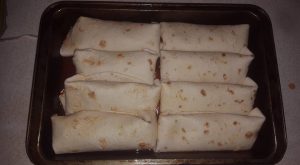 In a 9×13 pan, pour enough of the Enchilada Sauce to cover the bottom of the pan.    Then you put approx, 3-4 tbsp of filling in each tortilla shell ( generally I eyeball it, just make sure you don't overfill them or they won't roll up) and roll as if you are rolling a burrito.   Pour more of the Enchilada Sauce over the top so that it covers the middle of the Enchiladas, but doesn't completely cover the whole thing.   Place them in the 9×13 prepared pan and bake in oven for 40 minutes at 350 degrees.   Pull them out of oven and add another 2 handfuls of cheese to the top of the enchiladas.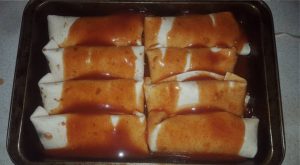 Put back in the oven until the cheese is melted.  Serve and enjoy!!!
If your interested in learning more about the Sous Vide method of cooking and using one of the many devices available to do this, click here!!
I usually serve this dish with a side of Spanish Rice and Refried Beans.   (I put any extra ingredients left over on the refried beans when serving …cheese, olives, onions, etc)  I would love to hear in comments if y'all try this one!!!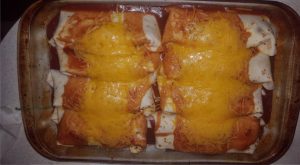 ---