Holiday Traditions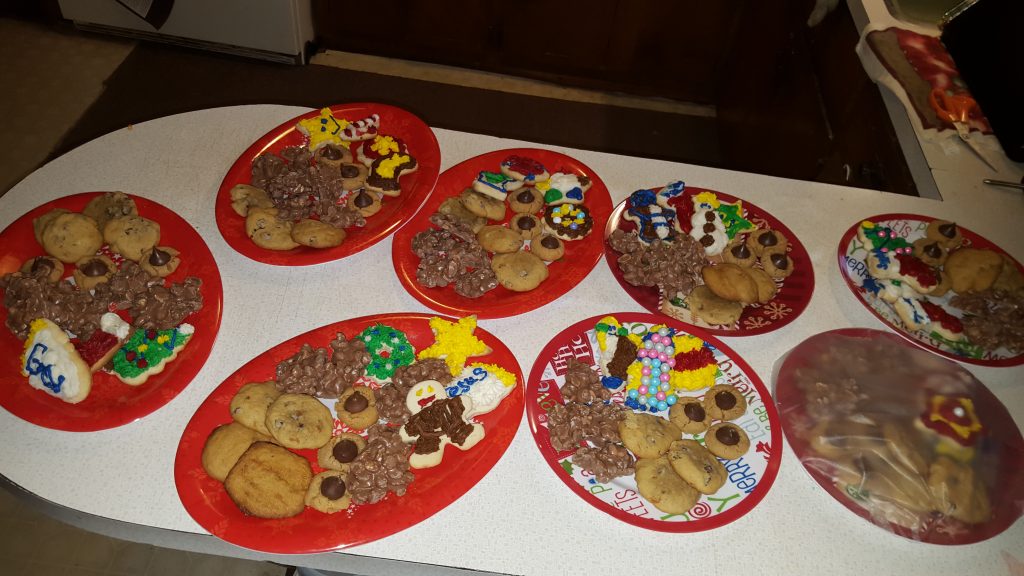 Holiday traditions are such an important part of families and so I thought I would share with you a little about one of my families.  
Years ago, when we first moved to Tennessee, we had moved away from all our family, so I had to come up with some new traditions to do with my kids.   Prior to moving, we had always gone and did things at different family members.  I have to say although I miss my family dearly, I do love the new traditions that I do with my children and now my grandchildren.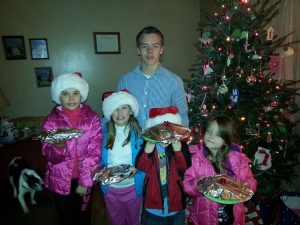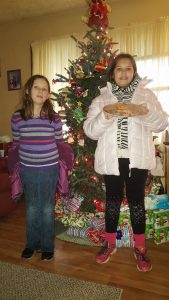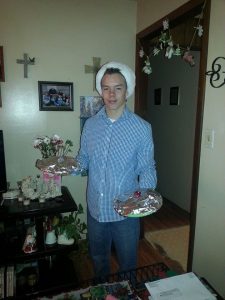 One of our favorite things is I bake a ton of cookies and candy.   I get the kids in the kitchen with me and they help bake 3-4 different types of cookies (chocolate chip, sugar cookies, peanut butter cookies, etc) and a couple of different candies.   Once we are done baking, then we spend another 2 days decorating all the sugar cookies.    If we had friends stop by, or the kids had friends over, then we everybody was included in our sugar cookie decorating extravaganza.   I can remember many years where we had frosting flying everywhere!!    Once all the cookies are decorated ,  I put plates together filled with all the goodies we have spent days baking and decorating.  We then dig out the Santa Hats, bundle the kids up and I'll send them out to each of the neighbor's houses with the plates of cookies in hand.    It started out with just the 2 in back of me and both neighbors on each side of me.   As the kids got older, they started adding houses, so that now, I do about 8 -10 houses.  At one point, my daughter Tiffany asked if they could sing Christmas Carols when they went and delivered the cookies.  I of course, told her yes, you guys decide which songs you want to sing, and then when they answer the door, you can sing to them.  during that  We  have lived in our home for 16 years,  and we have been doing the cookie / candy plates for about the last 14-15 years!!    I never realized until a couple years ago , that my neighbors have come to love those plates of cookies.  One of my neighbors daughters, that has since grown up and moved away from home, texted me and asked if I was doing my traditional plate of cookies and if she was still going to get some,even though she had moved off the block?    I was so touched by that simple little text!   Of course, my answer to her was  yes, and  I now make sure to make an extra plate for her.   My kids are almost all grown now, but I have 2 granddaughters that now continue the tradition wth me.   Although, I have to say that my older daughters, still come and help decorate and give out the plates of cookies.   My middle daughter Tiffany is my BEST cookie decorator, so there is no way I am letting her off the hook!!  Mama needs her!!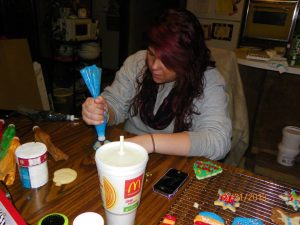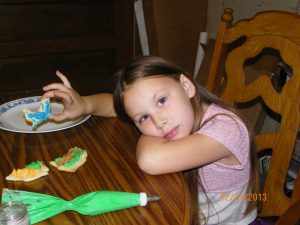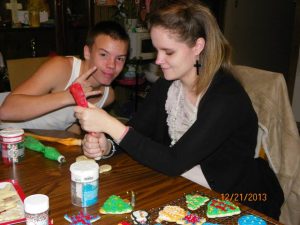 I am curious, what is YOUR family tradition?   Do you bake with you mom/ grandma?   Or do you have another Holiday tradition you would like to share?   Please leave me a comment below and let me know, as I love hearing from my readers!!
I thought I would share some of my Cookie Recipes here with you ,  I hope you enjoy them!    Let me know if you have some favorites that you use?   I would be happy to see if there are any I can add to my own!
SOUR CREAM SUGAR COOKIES
With Cream Cheese Frosting
Ingredients
1 1/2 cups white sugar

1 cup butter

1 teaspoon vanilla extract

2 eggs

1 cup sour cream

5 cups all-purpose flour

1/2 teaspoon salt
1 teaspoon baking powder

1 teaspoon baking soda

1 (8 ounce) package cream cheese

2 tablespoons evaporated milk

1 teaspoon vanilla extract

1/8 teaspoon salt

4 cups confectioners' sugar
Cream together 1 1/2 cups white sugar, butter or margarine, 1 teaspoon vanilla, and eggs. Add sour cream.

Mix together 5 cups flour, 1/2 teaspoon salt, baking powder and baking soda. Gradually add to the egg-sugar mixture.

Cover and chill dough for 1 hour.

Preheat oven to 375 degrees F (190 degrees C).

Roll out on lightly floured surface to 1/4 inch thick. Cut out cookies. Bake on lightly greased cookie sheet for 10 – 12 minutes.

To Make Frosting: In small bowl, with mixer at medium speed, beat together the softened cream cheese and evaporated milk until smooth. Add 1 teaspoon vanilla, 1/8 teaspoon salt and confectioners' sugar. Beat until well blended. Color as desired and frost cooled cookies
CROCKPOT CANDY

(16 oz.) dry roasted, unsalted peanuts  1 jar(s)
(16 oz.) dry roasted, salted peanuts   1 jar(s)
1 pkg  (12 oz.) semi-sweet chocolate chips
4 oz  sweetened german chocolate (green packaging), broken into pieces
3 lb (two 24 oz. pkgs.) white almond bark, broken into pieces
there are several different brands, you'll just have to use the brand found in your area. manufacturer's have lowered the ounces in some packaging, so use the equivlaent of 3 lbs.

Put ingredients into a 4 or 5-quart crockpot in EXACT order as listed. Cover and cook on LOWEST setting [on your appliance] for 3 hours. DO NOT remove lid! Turn off and allow to cool slightly. Mixture will not be melted but will be soft. Mix thoroughly and drop by teaspoon size cookie dropper or a teaspoon onto wax paper. Let cool thoroughly. Makes approximately 150 – 170 pieces, depending, of course, on how large you make the pieces…
Chocolate Chip Cookies
2 1/4 cups all-purpose flour

1 teaspoon baking soda

1 teaspoon salt

1 cup (2 sticks) margarine, softened




DO NOT use Butter!   Your cookies will be thicker and fluffy if you use margarine.

3/4 cup granulated sugar

3/4 cup packed brown sugar

1 teaspoon vanilla extract

2 large eggs

2 cups (12-oz. pkg.) Semi-Sweet Chocolate Morsels

1 cup chopped nuts (optional)
PREHEAT oven to 375° F.
COMBINE flour, baking soda and salt in small bowl. Beat butter, granulated sugar, brown sugar and vanilla extract in large mixer bowl until creamy. Add eggs, one at a time, beating well after each addition. Gradually beat in flour mixture. Stir in morsels and nuts. Drop by rounded tablespoon onto ungreased baking sheets.
BAKE for 9 to 11 minutes or until golden brown. Cool on baking sheets for 2 minutes; remove to wire racks to cool completely.
---