Magic Chef Air Fryer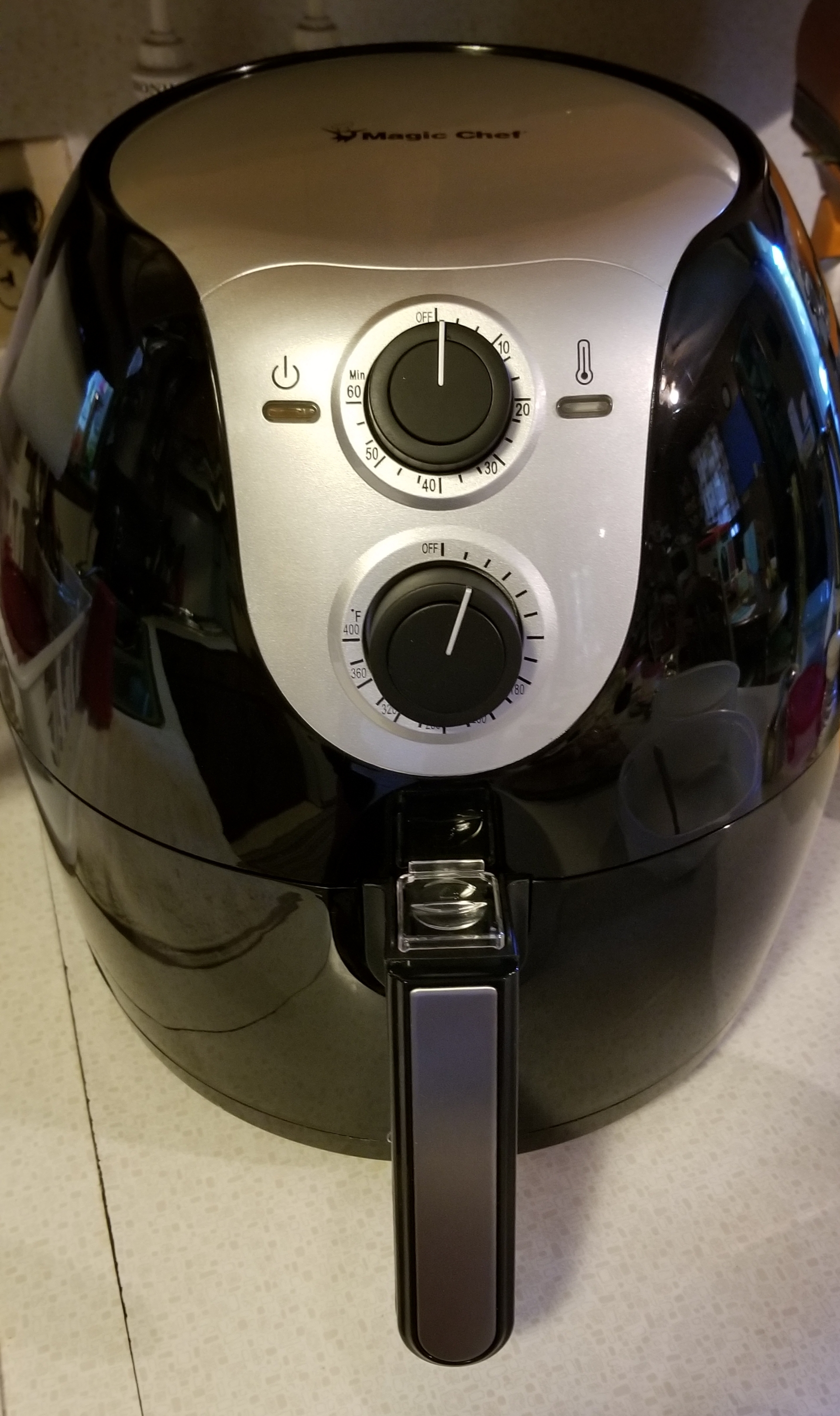 I recently got the Magic Chef Air Fryer and just started using it this past week. I have heard for months now how several of my friends love their air fryers. To be completely honest, I just thought it was another new "kitchen gadget" that would be a phase, run its course and we would all go back to normal cooking. All of my opinions on that changed DRASTICALLY the very first time I cooked in mine!!
I really had no clue how to use it, or what I should cook in it. I started doing some reading up on the air fryer in general and realized that it is not only good for traditional foods that you would fry, but for so many other foods! You can even bake in these!
Ok, so on to my own personal experience. The first meal I made in this was chicken tenders. I decided to do something very simple and straightforward. Since chicken tenders is a family favorite I decided to start with them. I don't make them often because they are so much work and they are far from being a healthy option. However, by using the air fryer, I knew I could take a recipe that is normally fried in massive oil/fat and make it in a healthier way. In fact, I used the the recipe from the little mini cookbook that comes with the Magic Chef Air Fryer. (I will be including the recipe in my recipe section soon. Keep your eyes open!!)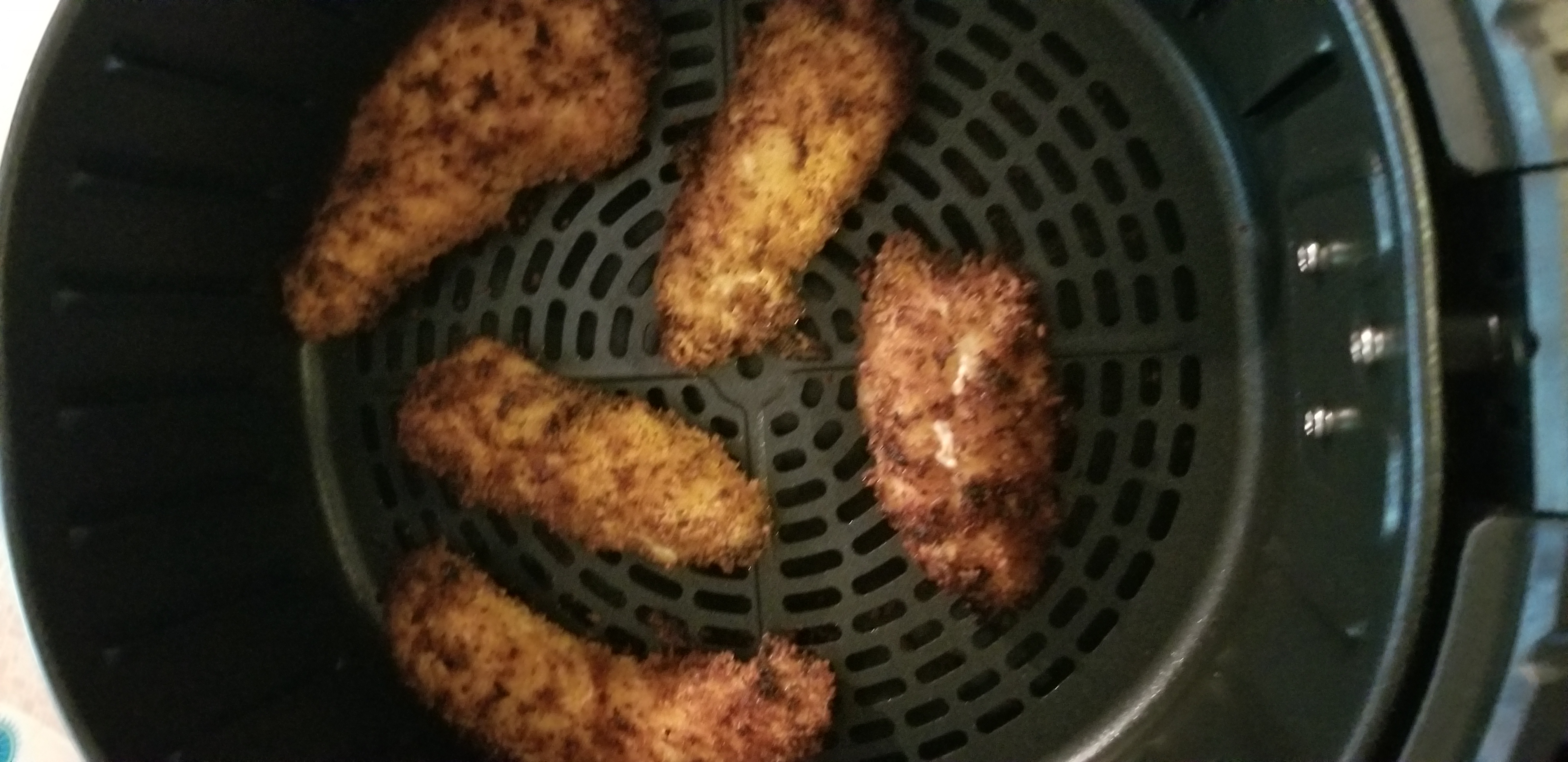 I cut up my chicken, prepared the breading, coated the chicken with mayo and breading and put it all on a plate, ready to go in the fryer. You do have to heat up the Air Fryer before putting anything in it, so I pre heated it and got it up to temperature for about 3 minutes. I had used about 2 ½ lbs of chicken breasts and put half in the fryer at a time. In 15 minutes they were done. While I was waiting on it to cook, I cleaned up my mess and made a vegetable to go with dinner.
I think that may be one of my favorite features of cooking with the air fryer. Once I have done the prep work for whatever I am cooking and I put it in the air fryer, I have "free" time on my hands to finish fixing the meal , to clean up, or to simply go relax.
This one that I have goes up to BLANK temperature and so far I haven't read any recipes that I will need it to go higher. Once you set the time on how long you want it to cook, it will beep when it goes off, so you know to either turn over what your cooking or that dinner is done. It has a large fryer basket on it that is super easy to clean. I tested out how bad clean up would be by doing ribs the other night with a TON of barbecue sauce and marinade on them. When I went to go clean the basket, there was a ton of sauce cooked onto the basket. Not burned on, but good and fried on. I was a little worried it was going to be difficult to get it off. I was pleasantly surprised. All I did was run it under some hot water and start cleaning, easy peasy, it came right off!
As far as the flavor of the food that you cook in the air fryer, oh my goodness!! It is sooo good!! I haven't come close to getting flavor like that when cooking ribs, except for when we do them outside on the grill. Another great feature is how quickly everything cooks. I can have roasted cauliflower done in about 13 minutes, whereas if I do it in my oven it takes about 45 minutes or more.
When I first put this on my counter, I really thought it would be like my blender. I would only pull it out occasionally when I had something specific to cook in it. I have since changed my mind on that logic. I have found that I want to cook in it because it is so quick and produces delicious meals. It is a little large, so it takes up some counter space, but in my opinion it is so worth the space!!
You can check it out by clicking HERE to be able to purchase one for yourself!!
I would love to hear from you if you have ever used an Air Fryer or if maybe you have some questions on my review. Please leave me a comment below!!! I always love interaction with all of my followers!
---