Mandarin Orange Cake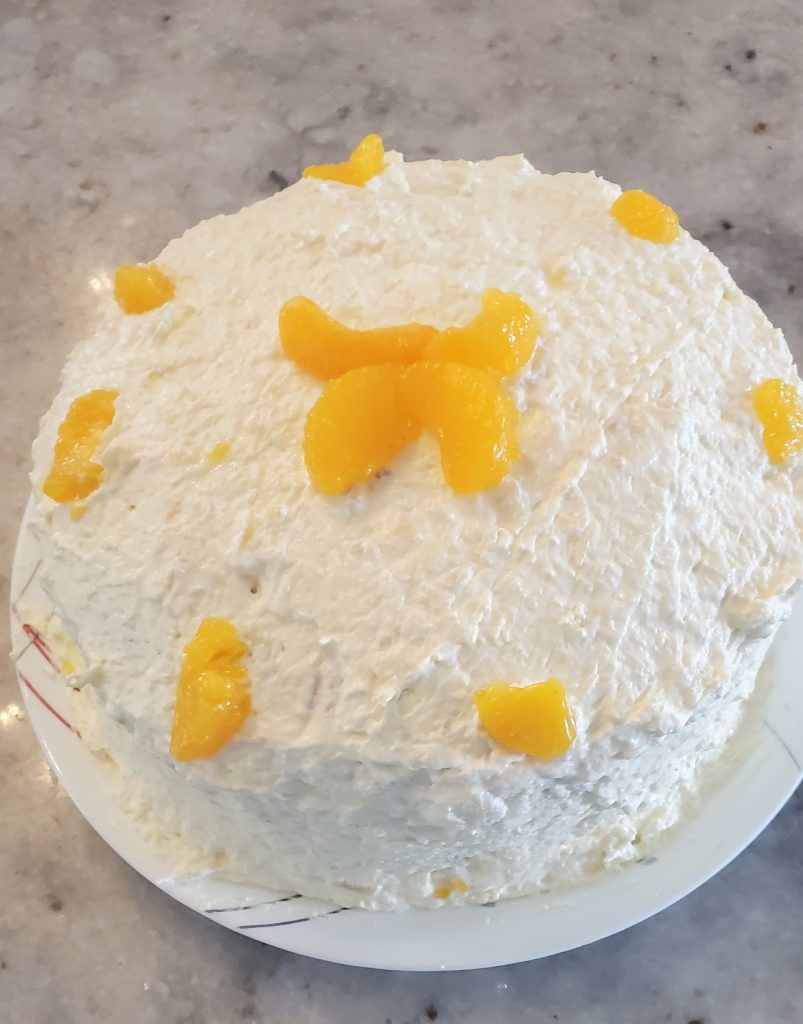 A good friend of mine brought this cake to a gathering and my husband fell in love! It is a perfect cake for Spring and Summer months, as everything about it is light and refreshing tasting!

INGREDIENTS
1 16.5 ounce Betty Crocker Classic Butter Golden Cake Mix
3/4 cup cooking oil
4 eggs
1 15 ounce can mandarin oranges, undrained ..yes I said UNDRAINED!
(I always save a couple and put on top of cake to decorate)

FROSTING
1 3.4 ounce box instant vanilla pudding
2 8 ounce cans crushed pineapple, undrained..Again…I said UNDRAINED! lol
1 8 ounce container Cool Whip, thawed

INSTRUCTIONS
Preheat oven to 350 degrees
In a large bowl, mix all the cake ingredients until well blended. You can use a mixer for the cake ingredients, but then fold in the mandarin oranges using a wooden spoon. If you use a mixer, it "tears" up the oranges too much and they become mushy.
Treat your cake pans for non stick. I traditionally use a product called "cake release". You can find it in the cake decorating section of your local Walmart. Or you can use a non stick spray. I use two 8″ cake pans, but you can certainly use the traditional 9 inch pans. Bake in 350 degree oven for 20 to 25 minutes checking for doneness as ovens vary. Remove from oven and let cool.

Frosting Instructions
Combine all the frosting ingredients and mix together with a spoon. Once again, there is no need for a mixer here. The ingredients mix up easily by hand and the frosting turns out the best this way!
---