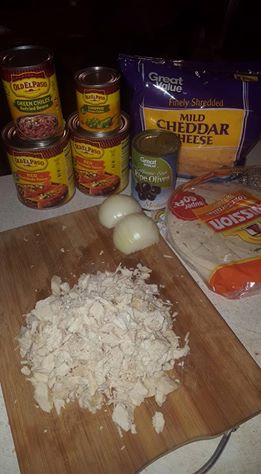 Chicken Enchiladas
This is a favorite in my household.   I have basically made this recipe up myself, based on what my family likes.   I originally came up with the recipe, when I didn't have much in the house and had some chicken breasts to make dinner for a family of 5.  I had to have 3 chicken breasts stretch to feed the whole family that night, and the ingredients that are in it , are what I had in the cupboard that day.
2-3 Chicken Breasts
1 Large can of Red Enchilada Sauce (any brand)
1 can of diced Green Chiles
1 can of diced Olives ( or a regular size can of whole olives, that you cut up.    If you do this, only use half the can)
Several cups Shredded Mild Cheddar Cheese
1/2 Large Onion, diced finely
8-10 Flour Tortillas
Salt and Pepper to taste
Start with the chicken breasts and boil them until they are cooked through.