Lightening Power Bank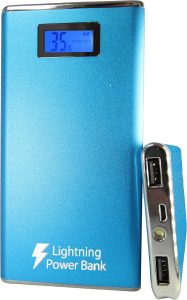 I own several Power Banks, however I have to say that this one is my new favorite!!!  I always grab this one before I will grab anything else.   Most of the power banks out there, will have lights that will tell you how much power you have left, but to be honest, you never really know how long it will last.   The Lightening Power Bank is a step above the rest, as it gives you a digital readout with the percentage of how much is left on the charge. What a FANTASTIC feature!! I use a Portable Charger all the time, but you never know how much charge it has and if it will go dead on you as you are out running your errands. This Lightning Power Bank, I can pick it up and know ok, I have 62% charge left on it, and I am good to go.
I hooked it up to my Android Phone and it took my phone from about 19% charge to 100% in about an hour or so. When it was on the charger, neither my phone or the Portable Charger got hot. That is huge, as I have had that issue with other chargers!!   I got the blue one, and I love the color.   My purse is a never ending, can't find anything kind of purse, so having this bright gorgeous blue charger, works perfect.   All I have to do is open my purse, and it stands out among all the nonsense , minus the kitchen sink, that I have in my purse.    It comes with a cord that has 3 different USB pieces, it will fit an iPhone 3/4 , the iPhone 5/6 and the Samsung Micro USB.   I have the Samsung Galaxy S6 and it fits my phone perfectly.  In fact, I use that same USB to hook my tablet up to charge it.    The end of the charger even has a flashlight on it.   All in all, this is a great little charger.
If you would like to purchase one yourself, simply click here .
I received this product at a discount in exchange for an honest and unbiased review and all thoughts reflected in this review are solely my own.
---