Roast in CrockPot
Here is my family's new favorite Roast Recipe.    I do this one in the Crock Pot, mainly because my oven is broke right now.    I love the gravy over it!!   found this somewhere on the internet, I wish I could give credit to the original recipe's author… but I honestly can't recall where it came from?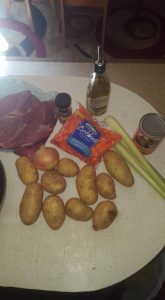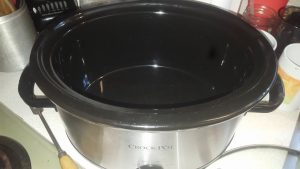 1 Chuck Roast (2-3 lbs)
1 bag of Baby Carrots (1 lb bag)
3 stalks Celery, chopped
7-8 Potatoes, peeled and quartered
1 Medium Onion , Quartered
1 Cup Beef Broth
1 tbsp Corn Starch
Olive Oil
SEASONING MIX:
2 tbsp Steak Seasoning Mix (I use a store bought one, it has peppercorns, garlic, paprika, salt, etc)
1 tbsp Rosemary
1 tbsp Sea Salt
1 tbsp Fresh Ground Pepper
In a small bowl, take all ingredients listed for Seasoning Mix, and mix together.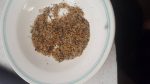 Pat the roast dry, and drizzle Olive Oil on both sides.   Take 1/3 of the Seasoning mix, and rub it into the roast.    Put your roast in a hot frying pan and brown on both sides.   (make sure you have seasoned both sides of roast)  Once both sides are brown, put your roast into your Crock Pot.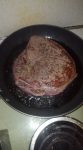 Add your chopped vegetables, potatoes, onion, carrots and celery to a large bowl.  Lightly drizzle Olive Oil over them and toss it all together to coat the vegetables well.   Then sprinkle the rest of your seasoning mix over the vegetables.   Using the same pan as you just browned your roast in, pour all the vegetables into pan and cook for about 5 minutes.  Be sure to keep stirring them around so they don't burn.    You are basically just sealing the seasoning mix onto your vegetables at this point.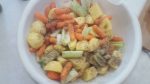 Pour the vegetables over the top of the roast in your Crock Pot, then pour the 1 cup of Beef Broth over the top.   Put your lid on and cook for 6 hours on High or 8 hours on Low.
MAKE GRAVY TO GO OVER ROAST:
Use a turkey baster to pull the juices out of the Crock Pot and put into a sauce pan.    In a small bowl, put the corn starch and add drops of water, until you have a runny kind of paste.     Heat the juices to boiling in your sauce pan, and whisk the corn starch mixture into the boiling juices.  Stir constantly until the sauce is thickened.  Now at this point, depending on how much juice I have pulled from the Crock Pot, I sometimes have to add a little more corn starch/ water paste to the pan.   Just be sure to keep stirring until it gets thick.
I usually put my roast and vegetables out on a platter or when I am not being "fancy" I use a cookie sheet.    Once I have it all laid out, I pour the gravy over the top of it all.
---