How the term FROG related to a battle with Cancer
This will be a short series of posts,on how my Blog got it's name and the people and meaning behind it.    I have been wanting to share with you for quite a while on how my blog's name originated and have finally decided to sit down and write it, although honestly, it is a hard one to do.  I know there are so many people that are affected by Cancer, and honestly, that is a huge part of how my Blog got it's name. 
The main part of my blog's name FROG , has a very special meaning to me and I feel that by sharing with my followers, that there will be others that can relate to why I included that as part of my blog's name.
I had a best friend of about 20 years , Diane Atkinson, that was diagnosed with stage 4 Lung Cancer at about the same time that I created my blog.   At the time of her diagnosis, the words she  relied upon was F.R.O.G.** FROG**  (Fully Rely on God).   I had decided to create a blog during the same time she had been diagnosed, and what is the 1st thing you do when you decide to write a blog?  You come up with a name.   To me it was a natural progression to include the term FROG.  I was also doing a lot of product reviewing and of course I tend to Ramble, so my blog's name just naturally came to be , FROG Reviews and Ramblings.    I may at some point in the future decide to  rebrand my blog, but the FROG part of my blog's name will always be there.  It is my way of honoring our friendship and her fight with Cancer.  I want to explain to you how important FROG was to not only the both of us, but to our families.
I can remember the day she called me to tell me her diagnosis.  We cried and prayed and spent a lot of time on the phone that day talking about what was to come in the near future.  I got off the phone that day, and looked at my husband and told him I needed to be there with her.  He never even hesitated, he looked at me and said , "Honey, why are you still sitting there?  Go pack a bag, let's go, I will take you up there today".  We lived about 5 hours apart.  That was on May 30th, 2014.    I left to go be with her about 2 days later. (FROG was all I could think at the time)
I spent the 1 yr and 3 months, at her house more than I was at my own.  I would go to Ohio, and stay there for a month to 6 weeks.   Then I would come home for a week or 2, sometimes I would get a full month at home, then I would be right back in Ohio.  I was there with her as she went through radiation and her chemo treatments.  I was there for just about all the important follow up visits to the oncologists.  If I wasn't there for the day of the results, I was at home wishing I was there.  I can remember, my suitcase sat in my room basically packed that whole year.   For the next 14 months, I was at her home more than I was in my own.. I have to say that i have the ABSOLUTE BEST HUSBAND in the world.  My wonderful, amazing husband would stay at home and take care of our kids, household, bills, and grand kids.
 At that point in our life, the granddaughters were just starting to stay with us more than they were with their mom.  (that is another story I will write another day)   My son, Michael was 15 and starting High School and Tiffany was 17, just finishing High School.  They were both at a stage in their life, let's just suffice to say, it was a challenge to have mom gone for so long.
I can't thank my husband enough for loving me enough to allow me to have that year with Diane and her family!!   My kids were wonderful about it as well, although, I know they missed me being at home, they knew that I had to be there with her.
Cancer is an evil awful thing that destroys your body as you go through the process of fighting it.  It puts a strain on the family that has to watch you go through it, and to be there to help the person diagnosed with the awful disease.   Diane's' daughter, Kelli Jo was amazing and loved her mom as she watched her fight that awful disease.  She was still living at home , so she was the natural one to take care of mom.  Diane's other 2 son's were there as much as they could possibly be, supporting and loving on their mom.  Her husband, is over an the road truck driver (you will here more about him in part 2 of this series) , but he also had to watch his wife deteriorate as she fought this battle.   Cancer doesn't ever just affect the person that is diagnosed with it, but it becomes everybody's fight.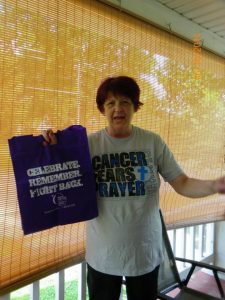 I want to end this segment of my series on this subject by saying during that whole year, Diane and I, as well as both our families, all lived by the saying , FROG…..Fully Rely On God.  She never stopped Relying on God and asking Him to guide her every step throughout her fight with Cancer.  She never once during those 14 months lost faith that God was there with her holding her hand, helping her stand, even when she couldn't' stand on her own.  It was what helped her get up in the mornings, helped her make it to each and every treatment ,scan, and doctor appointments.    
I am sad to say she lost her battle with Cancer on July 29, 2015.    I miss her more than I can put into words, yet every time I look at my blog or make a post on it, do a Giveaway, do anything with my blog, I think of Diane and remember the meaning of FROG….to always Fully Rely on God!!
Coming soon will be part 2 of this mini-series, I will share more with you about Diane and our friendship.   How important it is to have friends and family with you, as you go through a Cancer Battle.  How hard it can be to Fully Rely on God when the world and your body is telling you to give up.   I look forward to sharing the next part of my series with you.
If you have in any way been impacted by my post, please tell me in the comments section below.  I truly would love to hear from you!!ggn
 If you have had a family member diagnosed with Cancer, whether they won the battle or not, or maybe are still in the process of battling it, I would LOVE to hear from you!!!   Please feel free to share this post with others, as I hope that when I am done with this series, it can give hope to those that have none, or encouragement to those that are in need.
---